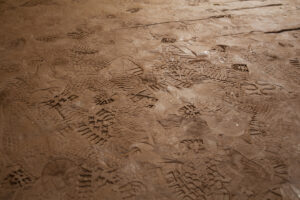 Textura provisional es una instalación experimental de carácter efímero en la que profundizo en el carácter cambiante de la materia y la fragilidad de la vida. El material elegido para llevar a cabo esta propuesta es barro, el cual, a medida que se seca, aporta una dimensión temporal al conjunto. La obra es creada in-situ: el barro es esparcido húmedo por el suelo, de manera que las pisadas de los y las visitantes dejan huella. A medida que pasa el tiempo el suelo se resquebraja libremente bajo nuestros pies, alusión a la rotura incontrolada propia de los movimientos subterráneos. Asimismo, el olor del barro húmedo nos ayuda a transportarnos a una especie de cueva primitiva en cuyos muros de ladrillo bruto, se proyectan una serie de gráficas en forma de luces y sombras creadas a partir de datos físicos que describen episodios sísmicos.
Proyecto comisariado por Lorena Domingo en Impact Hub Zaragoza, dentro del programa A3RTE y con el apoyo de Bodegas Enate.
---
Provisional texture is an ephemeral installation that examines the changing nature of matter and the fragility of life. The material chosen to carry out this proposal is clay, which is spread wet on the floor so that as time goes by, it cracks freely under our feet. In addition, a series of graphs created from physical data describing seismic episodes are projected on the walls.
Project curated by Lorena Domingo at Impact Hub Zaragoza, within the A3RTE program and with the support of Bodegas Enate.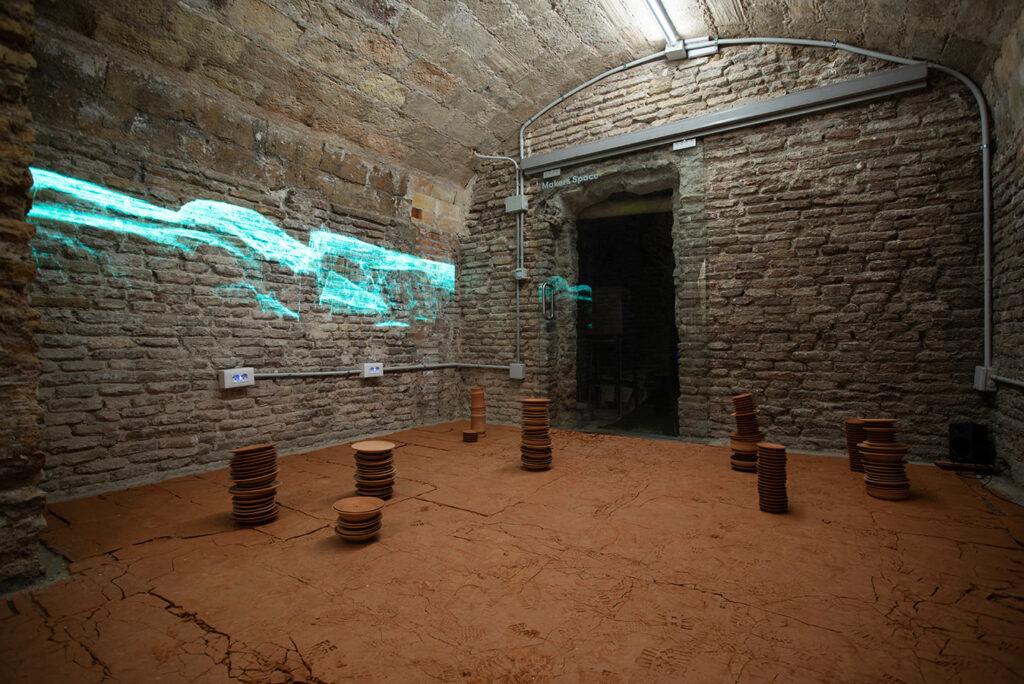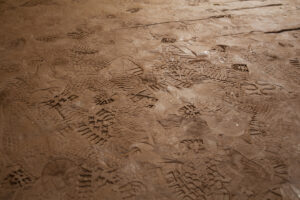 Videoinstalación: arcilla, vajilla cerámica y vídeo monocanal con sonido 3d; 18' 22'', 1920 x 1080 p.; medidas variables
Videoinstallation: clay, ceramic crockery and single-channel video, 3d sound; 18' 22'', 1920 x 1080 p. 
2020
Proyectos relacionados / related projects