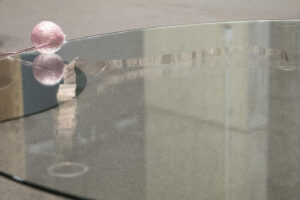 A system of desires (antes titulado Tiempo) se articula en torno al concepto de lo armónico a través del círculo. Las formas gravitan en un engaño estético que permite que convivan ideas aparentemente inconexas y presuntuosas; entre lo orgánico y lo artificial, los materiales ocupan un espacio en el que se relacionan y aportan autoridad: una torre de platos de barro parece flotar, un motor eléctrico infatigable, el abismo en un reflejo… y para terminar, toques de papel film rosado endulzando el conjunto.
---
A system of desires (formerly titled Time) is based on the concept of the harmonious through the circle. The forms gravitate in an aesthetic deception that allows apparently unconnected and presumptuous ideas to coexist; between the organic and the artificial, the materials occupy a space in which they relate and provide authority: a tower of clay dishes seems to float, a tireless electric motor, the abyss in a reflection… and finally, touches of pink paper film sweetening the whole.
Instalación. Gres blanco, material de embalaje, vidrio, espejo, madera de pino y torno eléctrico, 200 x 200 x 140 cm., 2021
Installation. White stoneware, packing material, glass, mirror, pine wood, and electric wheel, 200 x 200 x 140 cm, 2021.