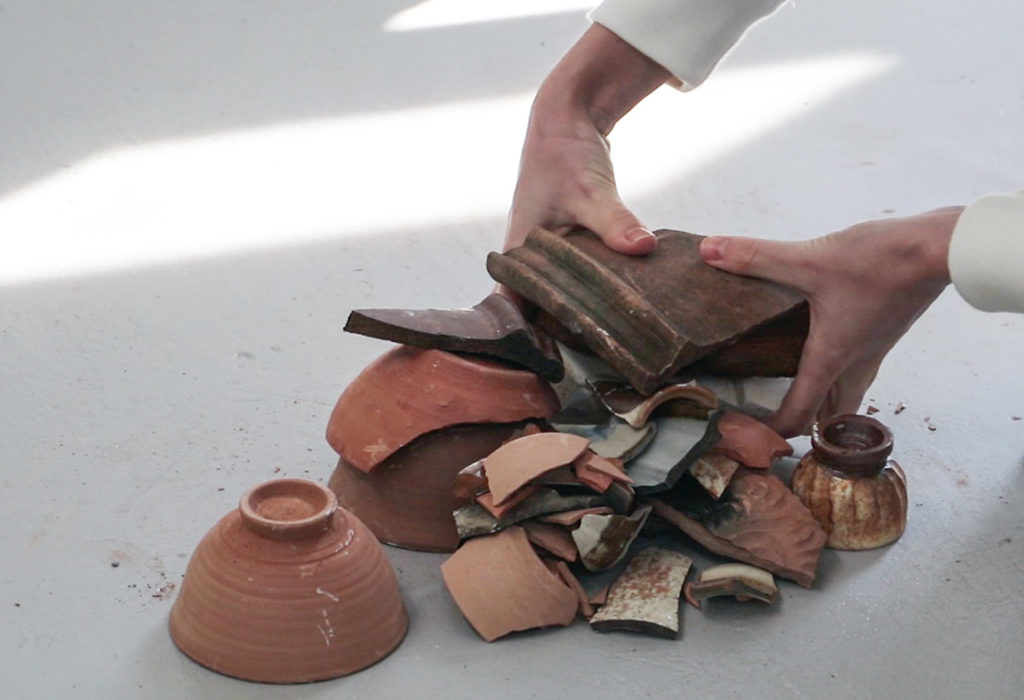 Durante los meses de residencia en Youkobo Art Space, Tokio, profundizo en el conocimiento de la técnica de reparación cerámica del Kintsugi . El estudio de los orígenes de la misma, junto con la experiencia de leves movimientos sísmicos vividos durante la estancia, revelan su posible vinculación con los accidentes geográficos que dan forma al archipiélago. Esta teoría justificaría la incorporación de una ideología colectiva que trata la rotura como parte de la historia del objeto y que concibe el accidente –pasado– como un elemento más del presente, al tiempo que los movimientos sísmicos son incorporados al compendio de gestos cotidianos . El viaje evidencia así el posible vínculo entre la orografía del archipiélago y el interés generalizado por el producto cerámico: Descubrí que cada trozo quebrado de barro cocido se asemeja a una isla flotando sobre un fluido constante de ideas; de la misma forma que las islas se convirtieron, ante la mirada de una coleccionista nata, en objetos a alcanzar. (Diario de viaje)
El proyecto resultante consta de dos elementos diferenciados: una serie de grabados sobre azulejos de las gráficas registradas por el NIED (National Research Institute for Earth Science and Disaster Resilience) entendidas aquí como partituras sísmicas y un documento audiovisual de los ejercicios gestuales llevados a cabo fruto de la interpretación de las primeras. Las gráficas describen los movimientos sísmicos que tienen lugar en Japón durante mi estancia. El material utilizado es recaudado en los centros cerámicos de Kasama y Mashiko.
---
Conducted as a resident artist at Youkobo Art Space, the research project "Archipelago" is based on the theory that the reiteration of the earth tremor in Japan could have generated a collective ideology that addresses breakage as part of the history of an object and understands the past accident as an element of the present. This would have as a consequence, the perception of seismic movements as everyday gestures. Based on the ceramic rests found at my grandparents' house, which has recently been demolished, I approach the Japanese technique of Kintsugi as a material response to the breaking forces of geological phenomena. This practice serves to deepen my interest in the processes of fragmentation, movement, eruption, and transformation, stating the resemblances between the Japanese landscape—an archipelago—and the eclosion of this technique.
The resulting project consists of two different elements. First: The series "Seismic scores", a series of laser engravings on square tiles, that represent the graphics registered by the NIED (National Research Institute for Earth Science and Disaster Resilience) and which are understood as seismic scores; second: a video piece documenting the gestures of moving the scattered ceramic fragments collected in Kasama and Mashiko, and which I performed after the data provided by the NIED. The graphics describe the seismic movements that took place in Japan during my stay as a resident artist at Youkobo Art Space, between February and March 2019.
(Work in progress)