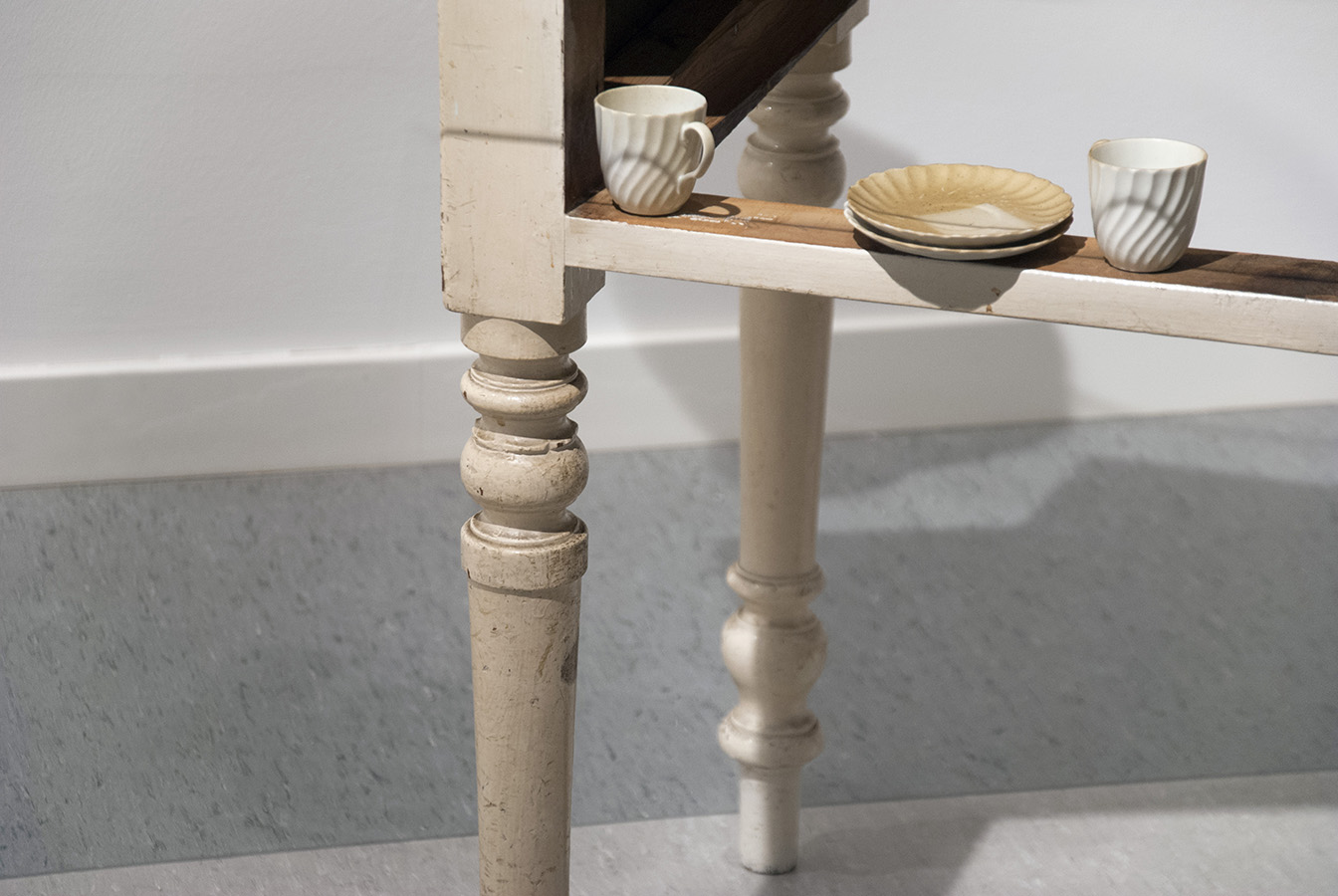 Parte de mi trabajo se ha centrado en una serie de instalaciones escultóricas en forma de mesas, las cuales concibo como estructuras arquitectónicas de reducido tamaño. Sobre éstas, sitúo objetos en un equilibrio temporal. Esta pieza presenta un escritorio donde una superficie de cristal reemplaza al tablero original. Asimismo, el cajón, que debería ser visto gracias a esta substitución, ha desaparecido. En el travesaño sobre el que inicialmente éste descansaba, dos tazas y dos platos parecen estar en peligro. Sobre el cristal, entre otro objetos, un rollo de papel blanco, deteriorado (escrito o pintado) por la luz.
---
I have been working on a series of sculptural installations in the form of tables. I understand them as undersized architectural spaces. On these «tables», I place things in an ephemeral balance. This work presents a desk where glass has replaced the board. However, the drawer that could have been spied thanks to such a substitution has disappeared. On the crossbar where it rested, I left two cups and two plates, which seem to be in danger. On the glass, amongst other objects, a roll of white paper, damaged and deteriorated (let's say written on or painted on) by light.
Escritorio en blanco. Instalación. Objetos varios, cristal y papel. 150 x 73 x 78 cm. 2015-2018.
Blanco desktop. Installation. Various objects, glass, and paper. 150 x 73 x 78 cm. 2015-2018.